Quarch Technology Limited, headquarted in Aviemore, Scotland is a world leading supplier of automated test tools for Storage systems. Quarch's scalable test systems enable manufactures of data storage to get to market faster with a more reliable product. Quarch products can be highly customised allowing the system to achieve a very rapid return on investment in any test environment.
New Products
Hot Swap, Signal Breaker & Fault Injection
Industry-standard fault testing without the complexity
In systems like data storage, telecommunications, networking, or AI in autonomous vehicles or aviation, testing for robust communication is critical.
Quarch Technology's Torridon system can be scaled to cover every testing requirement—from a single device in early R&D, to 1000+ drives in a huge array along with all its supporting cable interconnects.
Run thousands of device power cycles without manual intervention. Perform repeatable industry-standard tests, with highly accurate timing, and simulate physical layer faults for validation testing.
Used by most major companies working on SSD design, Communications silicon, Telecomms interfacing and more.

Part of mandatory testing schedule for NVMe drives at the UNH-IOL Plugfests, to prove the reliability and robustness of NVMe.

Support for the latest generation interfaces, including PCIe Gen4 and Gen5, plus 100G LAN over QSFP28.
Power Analysis
Streamlining power tests. Protecting drive performance.
Whether you're an SSD company, system integrator, test lab, drive reviewer or test equipment manufacturer: Guarantee your product's integrity and protect its performance with Quarch analysis tools.
Analyze real world in-system power interplay.
Verify prototypes and production drives.
Compare drives.
Analyze failures.
Test and measure power loss, brownout, idle power, power vs IOPS and much, much more
Automotive
Explore solutions for Electrical Vehicles and beyond
Innovations in automated testing and measurement for safety and efficiency. Digital transformation is sweeping the automotive industry at an unprecedented pace. Engineers face new challenges as high-speed data communications, power electronics, and battery technology enable safer, more efficient vehicles. To meet today's challenges and those yet to come, Quarch provides automotive testing solutions.
We have been the industry standard for physical layer testing across a range of industries such as drive manufacturing, data storage systems, networking, telecommunications and more for over 15 years.
Quarch power analysis solutions span from the measurement of low-power DC electronics to 3-phase AC charging. All are backed by our extensive automation framework and powerful analysis software.
Automotive Multi-Protocol Breaker A versatile tool from Quarch, a standalone fault injection and monitoring device for testing critical communication links in the automotive industry and beyond. It can support many communication links from CAN to 1000Base T1 Ethernet.
Physical Layer Switches
Automated re-cabling for test systems
With Quarch switches you can reconfigure your test rack with simple, remote commands.
Automate connections between multiple devices and run tests 24/7. Duplicate signals to multiple pieces of test equipment and share expensive tools, such as analyzers and traffic generators, between multiple tests.
Quarch's physical layer switches are completely transparent at the protocol layer, so devices behave as though directly cabled. Our SAS/SATA and USB switches re-drive your signal without re-timing it, ensuring no errors are masked.
Our physical layer switches are used by RAID developers, IC designers, test labs and driver developers, and for motherboard and host design and testing.
Improve test automation and test coverage.
Avoid mistakes made during manual cable changes.
Get better use of of limited test equipment.
NVMe Plugfest Testing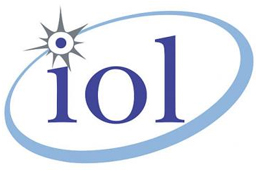 Going to an NVMe Plugfest to gain compliance test results for your equipment? Get the right kit and advice to make sure you are ready to pass!
Cable Tester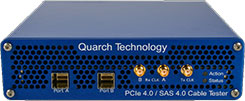 Easy to use and with a comprehensive set of reporting capabilities, the Cable Tester allows the kind of pre-emptive checks that will minimize debugging time and accelerate quality screening.
Software
Get the best from your Quarch products.
With our powerful software tools, you can visualise huge power traces, automate large test plans and much more. Our primary tools include: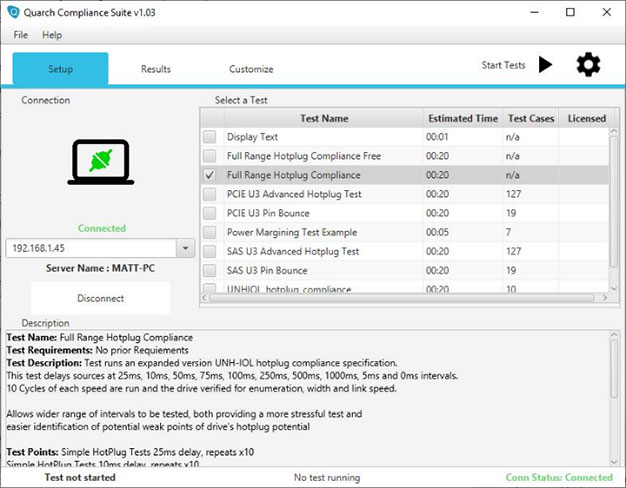 Compliance Suite allows fully automated testing with no need to develop your own test cases or automation systems. Quarch test cases cover a wide range of hot-plug, pin bounce and timing tests to ensure your system is stable in all cases and can handle likely physical layer faults that will occur in the field.
Controller & Accessories
| | |
| --- | --- |
| | |