Comprehensive Automotive Test Bench
Various TOELLNER Systems can help in performing standardized test. WaveControl Software includes a comprehensive library of waveforms supporting these standardized automotive industry tests:
BMW GS 95024-2-1
LV124
MBN 10615
MBN LV124-1
VW80000-1
BMW GS 95026
LV148
VDA 320
VW 82148
e.t.c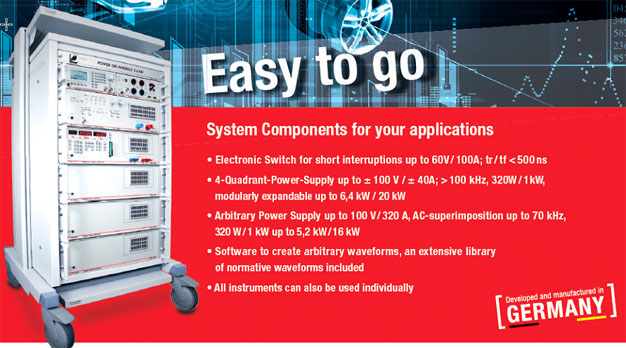 High Speed Switch for Automotive Tests
Micro Switch TOE 9261
The Electronic Switch TOE 9261 is a device for time-based turning on and off of load and signal currents. This device provides an electronic, unidirectional power switch as well as four electronic bidirectional signal line switches. The power switch can be used for switching the positive supply line of the load as well as the negative return path (ground). In the configuration for switching the positive line, a selectable load-parallel crossover for selective discharging of buffered loads is provided. A digital input signal can be used to generate on- and off-durations of any time down to the microsecond range for both the power switch and the signal line switches.
For Brief Interruptions in Power Supply and Ground Lines
Input Voltage: Up to 60V
Output Current: Upto 100V
Interruptions of supply and ground lines
Rise and fall time : <500 ns
Short-circuit-proof
Discharging of load current circuit
4 signal line switches
Control by any signal generator (TTL level)
High-speed TOE 9261 switch from Toellner Electronics. © Toellner Electronics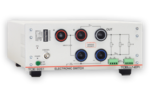 Particularly Suitable for Automative Test
12 V vehicle electric system

48 V vehicle electric system

BMW GS 95024 2-1
LV124
Mercedes-Benz MBN 10615
Mercedes-Benz MBN LV 124-1
VW 80000-1

BMW GS 95026
LV148
VDA 320
VW82148
Special Automotive Tests Support
TOE 9261 especially is applicable for the following tests according to the automotive standards LV 124 and LV 148:
LV 124, E-10: Short interruptions
LV 124, E-13: Pin interruption
LV 148, E48-09: Short interruptions
There are many other industry standards based on LV 124 and LV 148 like VW 80000, GS 95024-2, VW 82148, etc. with power and signal line interruptions, where the Electronic Switch TOE 9261 can be applied.
This application note (Automotive Tests) describes how these tests are carried out by use of the TOE 9261, especially under consideration of the following points:
Test assembly and wiring of the components
Choice of the right switch, i.e. power switch resp. signal line switch of the TOE 9261
Reference measurements according to the requirements of the LV 124-2013
Electrical Tests
TOELLNER TOE 7621-32
4-Quadrant Power Supply
DC- 100kHz, ± 32V, ± 10A, 320W

TOELLNER TOE 9260
Electronic Switch, TOE 9260,
60V, 50A, t <1μs
VW80000

MBN LV 124-1

BMW GS 95024-2-1/-2

MAN M 3499-1/-2